Defending champions Mumbai Indians crashed out of the IPL 2018 season after losing their must win encounter against Delhi Daredevils.
Mumbai Indians finished at the fifth position in the points table with six wins from fourteen games. They played good cricket throughout the season but many last over losses and captain Rohit Sharma's form let them down.
Suryakumar Kumar Yadav was the only batsman who performed with consistently, Evin Lewis also chipped in a few matches. Kieron Pollard and Rohit Sharma, their two most experienced players disappointed big time this season.
In the bowling department Jasprit Bumrah and Hardik Pandya performed upto their reputataion. Young spinner Mayank Markande is the find of this season for Mumbai Indians.
Here is a look at Mumbai Indians' IPL 2018 performance :
Team Records :
1. Result Summary :
| | | | | |
| --- | --- | --- | --- | --- |
| Opposition | Match | Won | Lost | NR |
| Sunrisers Hyderabad | 2 | 0 | 2 | 0 |
| Chennai Super Kings | 2 | 1 | 1 | 0 |
| Kolkata Knight Riders | 2 | 2 | 0 | 0 |
| Rajasthan Royals | 2 | 0 | 2 | 0 |
| Royal Challengers Bangalore | 2 | 1 | 1 | 0 |
| Kings XI Punjab | 2 | 2 | 0 | 0 |
| Delhi Daredevils | 2 | 0 | 2 | 0 |
| Total | 14 | 6 | 8 | 0 |
2. Highest Team Total :
213/6 vs RCB at Mumbai
210/6 vs KKR at Kolkata
194/7 vs DD at Mumbai
3. Lowest Team Total :
87 vs SRH at Mumbai
147/8 vs SRH at Hyderabad
153/7 vs RCB at Bangalore
---
Batting Records :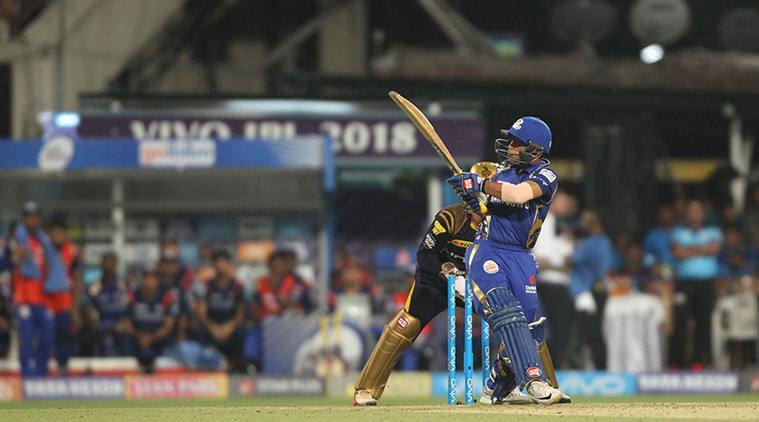 1. Most Runs :
| | | | | | | | | |
| --- | --- | --- | --- | --- | --- | --- | --- | --- |
| Player | Mat | Inns | Runs | Avg | SR | HS | 100 | 50 |
| Suryakumar Yadav | 14 | 14 | 512 | 36.6 | 133.3 | 72 | 0 | 4 |
| Evin Lewis | 13 | 13 | 382 | 29.4 | 138.4 | 65 | 0 | 2 |
| Rohit Sharma | 14 | 14 | 286 | 23.8 | 133.0 | 94 | 0 | 2 |
| Ishan Kishan | 14 | 12 | 275 | 22.9 | 149.5 | 62 | 0 | 2 |
2. Highest individual scores :
Rohit Sharma - 94 vs RCB at Mumbai
Suryakumar Yadav - 72 vs RR at Jaipur
Evin Lewis - 65 vs RCB at Mumbai
Ishan Kishan - 62 vs KKR at Kolkata
3. Highest batting average (Min 5 innings played) :
Suryakumar Yadav - 36.57
Evin Lewis - 29.38
Hardik Pandya - 28.88
Ben Cutting - 24.00
4. Highest batting strike rate (Min 100 balls faced) :
Ishan Kishan - 149.45
Krunal Pandya - 145.22
Evin Lewis - 138.40
Hardik Pandya / Suryakumar Yadav - 133.33
5. Most fifty plus scores :
Suryakumar Yadav - 4
Ishan Kishan / Evin Lewis / Rohit Sharma - 2
Hardik Pandya / Kieron Pollard - 1
---
Bowling Records :
1. Most wickets :
| | | | | | | | |
| --- | --- | --- | --- | --- | --- | --- | --- |
| Player | Mat | Inns | Wkts | Avg | Eco | BBI | 4-fers |
| Hardik Pandya | 13 | 13 | 18 | 21.2 | 8.9 | 3/24 | 0 |
| Jasprit Bumrah | 14 | 14 | 17 | 21.9 | 6.9 | 3/15 | 0 |
| Mayank Markande | 14 | 14 | 15 | 24.5 | 8.4 | 4/23 | 1 |
| Mitchell McClenaghan | 11 | 11 | 14 | 23.7 | 8.3 | 2/22 | 0 |
2. Best bowling figures in an innings :
Mayank Markande - 4/23 vs SRH at Hyderabad
Jasprit Bumrah - 3/15 vs KXIP at Mumbai
Mayank Markande - 3/23 vs CSK at Mumbai
Hardik Pandya - 3/24 vs CSK at Mumbai
Mustafizur Rahman - 3/24 vs SRH at Hyderabad
3. Best bowling average (Min 5 wickets) :
Hardik Pandya - 21.16
Jasprit Bumrah - 21.88
Krunal Pandya - 23.66
Mitchell McClenaghan - 23.71
4. Best economy rate ( Min 10 overs bowled) :
Jasprit Bumrah - 6.88
Krunal Pandya - 7.07
Mitchell McClenaghan - 8.30
Mayank Markande - 8.30
---