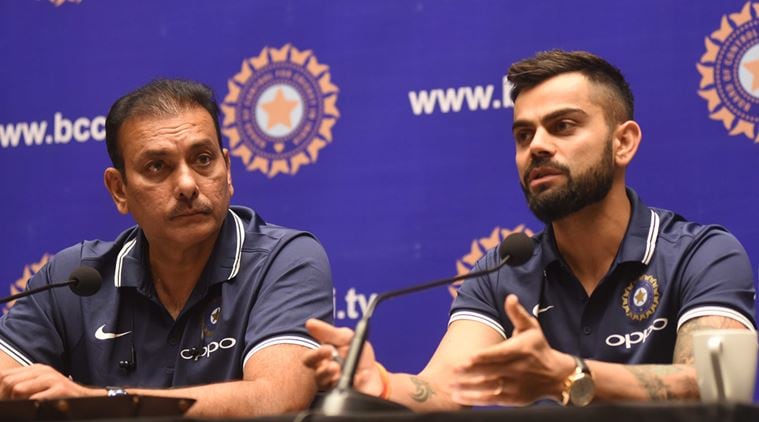 Team India is on a successful rise at the moment under Ravi Shastri. Shastri has hailed Team India's performance in the Test series even after losing it 2-1.
India toured South Africa and played three Tests, five ODIs and three T20Is in January and February. After losing the first two Tests in Cape Town and Centurion, India staged a remarkable fightback to first win the dead rubber in Johannesburg on a difficult pitch before crushing South Africa 5-1 in the ODIs.
Kohli led from the front and hammered 871 runs on tour including a record-breaking 558 runs in the six-match ODI series.
Spinners Kuldeep Yadav (17) and Yuzvendra Chahal (16) snared 33 wickets between them in the ODI series to leave the Proteas dazed on their own turf.
"Well before we went to South Africa, I told you very clearly - the next 15 months are going to define this Indian cricket team," Shastri said during the launch of Boria Majumdar's new book Eleven Gods and a Billion Indians. "There are no two ways about it. What the boys did in South Africa, it makes a coach like me proud."
"There were 21 days of cricket - each one of those 21 days, India competed. We might have lost a close Test series but each one of those 21 days, the pendulum swung from one side to another. And a little bit of luck, that Test series could well have been ours."
"But for 21 out of those 21 days, the boys competed - they were relentless. Everyone around the world knows how good South Africa are in their backyard. From a coach's point of view, you have to stand up and say: 'Well done guys" Shastri said.
Meanwhile, Rohit also lauded Shastri for the freedom he gave the team.
"With a coach like Shastri, we get that freedom. We were never pressurized about winning outside India - for me, it's about winning whether it's at home or overseas. For me, it is about representing your country and winning anywhere.
"As long as you are wearing that crest on your chest, it's about going and winning anywhere you play," he concluded.