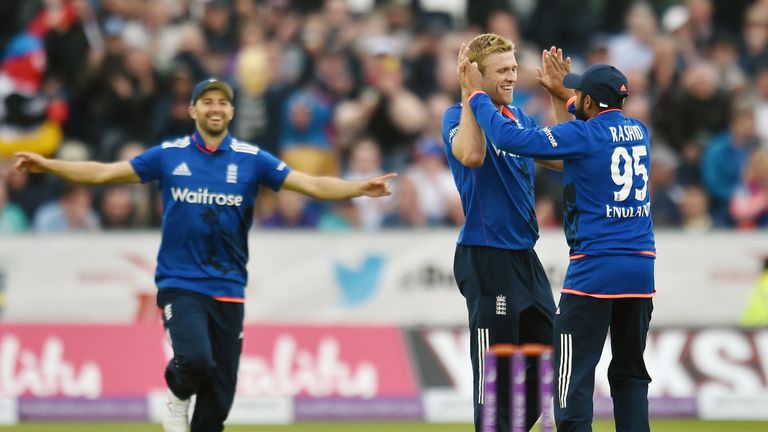 David Willey has come out backing Adil Rashid's decision to concentrate on white ball game to give a new shape to his career with England. Earlier this week, Rashid announced his decision to only play white ball cricket for Yorkshire this season, becoming the first England player to officially make that move.
The move has surprised some. Rashid has been on the fringes of England's Test team during the past year but a recall was not out of the question and this decision effectively ends that chance. Neither has he made the decision to allow him to go and play elsewhere. Rashid was not picked up in the IPL auction so won't be playing any cricket in April and the only other T20 tournament during England's summer is the Caribbean Premier League which clashes with the T20 Blast.
Defending Rashid's decision Willey said "People make decisions in all careers as to what they enjoy and what suits them, and it wouldn't surprise me if more guys do it over the next few years with the amount of white-ball cricket that's available throughout the year," Willey said.
Willey also gave a reason keeping in mind the financial aspect of the game with franchise cricket taking a boom in world cricket. "It's to be expected. It's just the way the game seems to be going and these Twenty20 competitions are appealing to people not only for the cricket but also financially".
Willey also said that this decision of Rashid choosing to play only one format is completely his personal.
"If they don't want to play Test cricket or four-day cricket, it's an individual's decision. Whether more people decide to do it or not is another matter, but it's certainly been discussed." Willey, who has not been in an England Test match squad, is one of a handful of limited over specialists who could decide to follow Rashid's lead in the future although he wants to continue to play red-ball cricket "for the time being".
Willey who himself is a specialist white ball cricket has played just six championship matches in the last two seasons believes the amount of international white-ball cricket means it is hard for players in England's one-day and T20 teams to spend the time in county cricket pushing for a Test call-up.
"It's probably nearly impossible to do that when you're playing so much white-ball cricket," Willey concluded.