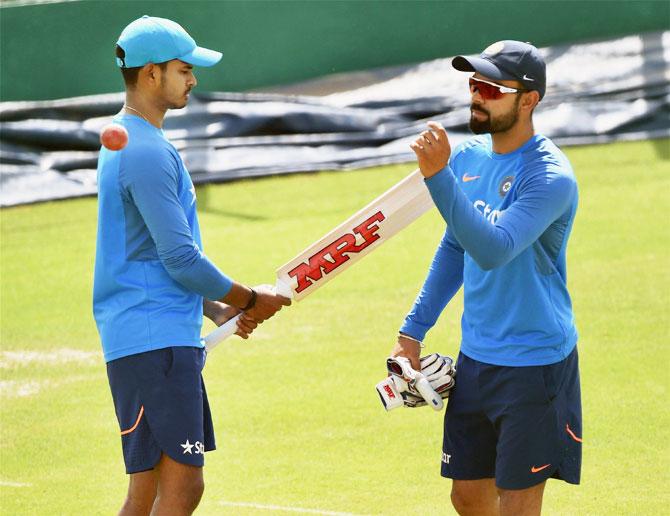 The Test match against Afghanistan might see Shreyas Iyer make his Test debut for India in place of Virat Kohli who will be busy playing county cricket with Surrey in the meantime. Ajinkya Rahane will be leading India in the Test match while Rohit Sharma will take charge of the Indian team in the Ireland series.
The national selection committee meets to pick a host of squads on Tuesday. It is understood that barring Kohli, almost all the Test team regulars will be in action against Afghanistan.
Cheteshwar Pujara and Ishant Sharma are expected to come back from England after Yorkshire's away game against Surrey at the Oval from May 11-14. Yorkshire's next match is on June 20 against Hampshire.
"There was a bit of wrong communication in some sections of media. Pujara was always going to play the Test match against Afghanistan. Ditto for Ishant Sharma, who doesn't have a game for Sussex after his next match against Kent from May 11-14. Both are not playing any Royal London Cup matches during that phase," the BCCI official said.
As far as Kohli's replacement for the Test match is concerned, BCCI is looking at Shreyas Iyer as an option.
"We have like for like replacements. For Kohli, it has been Iyer. For Jadeja, its Axar Patel, for Hardik Pandya, it is Vijay Shankar. So you cannot miss the pattern," a selection committee member said.
The selectors had picked Iyer as Kohli's cover during the Dharamsala Test against Australia in 2017. Kohli had sustained a shoulder injury then. Iyer, however, didn't find a place in the playing XI as Kuldeep Yadav made his debut and had a successful outing.
However, with an aggregate of 3989 runs in 46 first-class matches at an average of 53.90 means that Iyer could find a place in the squad.
Murali Vijay, Shikhar Dhawan, KL Rahul, Pujara and skipper Rahane being certainties in the playing XI, Iyer will have to fight for his place along with Rohit Sharma, who has had a mediocre Test record so far.
The India 'A' tour of England will begin with an ODI tri-series against England Lions (A team) and West Indies A, from June 22.
India A will play a four-day 'Test' against the 'Lions' from July 16-19 at Worcester apart from a couple of three-day games against county sides.
Seven Test team regulars will be there in UK after completion of Afghanistan Test to get into the groove.