One of the thrills of watching a limited overs game over the years has been watching some of the greatest finishers of our game get their magic together and win the game for their side.
It is absolutely important to start off well, but it is necessary to finish strongly. Gautam Gambhir, one of India's best, was once quoted saying, "It is not about how you start, it's about how you finish"
Finishing the innings is also an art, it can be instinctive of a player to play the matchwinning stroke and knock, but the best finishers of our game has been very calculative in their approach and have found immense success because of it.
The Indian Premier League too, over the years, has been a platform for some of the best finishers to exhibit their class and win games for their teams. Batting in the middle to lower order and be adaptable & flexible to try and succeed & doing this consistently, is a very tough job. Very few have achieved consistency at this, those who have done so are rare.
Hence, team COC gets own to analyze and list out some of these players who have been to play the role of a finisher for their sides in this IPL season successfully.
1. MS Dhoni
There's genuine consent in the cricketing world about him, MS Dhoni they say is the best-limited overs finisher they have ever seen. It is a feeling that has been reiterated time and time again, because of just how good Mahendra Singh Dhoni has been at it over the years. Before the start of this season, there were doubts whether MS Dhoni, in the twilight of his career, is the same force as he used to be, but the great man put all those doubts to rest by showcasing his best this year for Chennai Super Kings. He's been in amazing form, hitting the ball as well as ever and making the matchwinning impact at the end. Legend of our sport.
2. AB de Villiers
There is no doubt in the minds of the cricket understanding audiences, that AB de Villiers is the best Royal Challengers Bangalore batsman. His ability to take things under control batting no.4 and staying there till the end to finish the games is absolutely amazing. RCB has failed to feel familiar with the winning feeling but two matches that they've won has happened purely because of just how good AB de Villiers is. He absolutely smashed the Kings XI Punjab and Delhi Daredevils in those games and did it with his typical ease. Sometimes you feel, when he is batting in full flow and doing what he does, isn't it unfair on the bowling team for having to try and bowl to him.
3. Andre Russell
There's a reason why Kolkata Knight Riders retained him in the auction, in Andre Russell they have one of T20 cricket's best players. That's how good he has been. T20 is often about outdoing the opponent by excelling the strike rate while batting, Russell does this brilliantly. Best exhibited by his performance against the Chennai Super Kings, where because of him there was a six-hitting procession going on. Russell scored 88 from 36 balls, an innings sparkled with 11 huge sixes. He has made the matchwinning impact for KKR this year batting often at the deep end of the innings.
4. Dinesh Karthik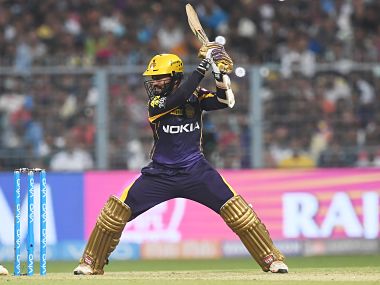 As a captain, one of the perks that comes with the job is to try and excel at doing the toughest work for the team. Just think of Dinesh Karthik, he has always been a multidimensional player, but what he does for Kolkata Knight Riders is absolutely respect-worthy. Karthik captain, keeps wickets, bats in the youngsters filled middle order, and now he has started to finish games off as well for his team. He has been successfully doing all of these tough jobs together this year. KKR, which must be confessed didn't purchase the best squad in the auction, needed the matchwinners in their side to step-up. Dinesh Karthik has been one such matchwinner for them as a finisher.
5. Krunal Pandya
In the last few years of the Indian Premier League, one name has emerged as one of the brightest young talents out there. Krunal Pandya is a priceless cricketer for Mumbai Indian. His all-round ability has added great weight to MI's formidableness. Rohit Sharma can depend on his extremely accurate left-arm spin and then back his big-hitting ability as a finisher batsman, to win games for his side. He fully well showcased this in a recent game against the Kings XI Punjab. Protecting 175, Kings XI made a stellar defense on the back of Ravichandran Ashwin's astute captaincy and their smart bowling till Krunal Pandya arrived at the crease. With the game still in the balance at the death, Krunal Pandya started clearing the boundary with his beautiful bat swing. He has always come across a very well organized cricketer and so, no wonder he has been able to adjust to the demands of a finisher.