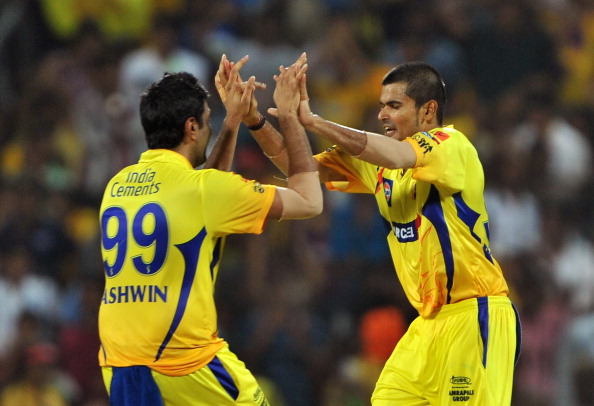 Ravichandran Ashwin was a surprise omission when CSK announced the names of the players they retained ahead of the IPL 2018 auctions. Many expected CSK to retained the Tamil Nadu off-spinner instead of Ravindra Jadeja, however that did not happen.
Subramaniam Badrinath who played alongside Ashwin for many years at CSK said that the franchise would not feel the absence of Ashwin as they have enough cover to counter his absence.
The Chennai-based franchise tried to buy Ashwin, but could not match bids from Rajasthan Royals and KXIP. "Ashwin is a miss, but it's up to the franchise. After (Ravindra) Jadeja was retained as a specialist spinner, Ashwin was never really on the cards, although CSK went for him. It's a miss from the point of view of him being a Chennai boy, but I wouldn't say a huge one," former CSK player Subramaniam Badrinath told Express on the sidelines of a Star Sports event.
CSK has an array of world-class spinners which is why Badrinath thinks that Ashwin's absence will not hurt the franchise. They have proven players including Imran Tahir, Karn Sharma and Harbhajan. Like Ashwin, Harbhajan has the ability to bowl in powerplays. He can also prove handy at the end with his faster ones.
"When you want to talk about the strength of CSK, spin is high on the list. They have a battery of spinners which is really smart, and the conditions are suited for spinners at Chepauk. With the big side boundaries, spinners are not easy to hit." With Harbhajan, who has 127 wickets in the IPL, having played under the leadership of Dhoni for the national team, their understanding and experience could prove to be a strong component this season. Badrinath feels Harbhajan can also contribute with the bat.
Adding more about Bhajji Badrinath said "If there was one venue, which will really suit Harbhajan Singh, it is Chepauk with its big side boundaries. That will be a huge factor in Chennai and the relationship between Dhoni and Harbhajan is also going to be key. Harbhajan can also hit a long ball, coming lower down the order."
CSK who will be back in IPL folds after serving their 2-year ban will start their campaign against defending champions Mumbai Indians at Wankhede on April 7.