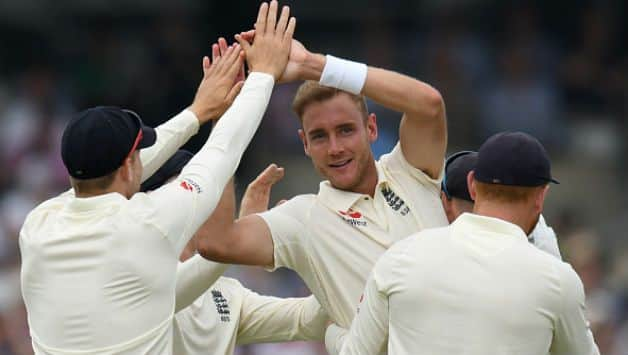 The second and final Test match between England and Pakistan began at Headingley, Leeds on Friday. Pakistan won the toss and elected to bat first but the English trio of James Anderson, Stuart Broad, and Chris Woakes bundled out the visitors for a mere total of 174 runs, all the three bowlers took three wickets each and for Pakistan, all-rounder Shadab Khan scored 56 runs.
In reply, England ended on 106/2 and trailing by just 68 runs. Captain Joe Root is batting on 29 and will be looking forward to playing big innings.
All the key stats and facts from the first day of Second Test between England and Pakistan at Headingley, Leeds :
1 - Sam Curran is the first left-arm pacer to make his Test debut for England in the last 17 years. The previous left-arm pacer to make his Test debut for England was Ryan Sidebottom in 2001 against Pakistan at The Lord's, London.
1 - Tom and Sam Curran are the first pair of brothers to play Test cricket for England since Adam and Ben Hollioake brothers in 1998.
3 - Third consecutive Test match fifty for Shadab Khan, he scored 55 against Ireland in Dublin and 52 and 56 against England in Lord's and Leeds respectively.
51 - Number of Test wickets taken by Stuart Broad against Pakistan and he became the second English bowler to take 50 or more wickets against Pakistan in Test cricket after James Anderson (61).
154 - This is Alastair Cook's 154th consecutive Test match and he broke former Australian captain Allan Border's record of playing most consecutive Test matches (153).
Most consecutive Tests :
154* - Alastair Cook
153 - Allan Border
107 - Mark Waugh
106 - Sunil Gavaskar
101 - Brendon McCullum

232 - Usman Salahuddin became the 232nd player to play Test cricket for Pakistan and it is also his 100th First-Class match.
686 - Sam Curran became the 686th player to represent England in Test cricket and his older brother Tom Curran was the 682nd.