Picking world elevens has always been in fashion in our sport. Recently, ESPNcricinfo, one of the most well-reputed cricket platform that we have, got together a bunch of former players to select and list out a dream Test XI filled with players that successfully played the toughest format during the last 25 years.
And when one looks at this eleven, it is truly a Dreamt one.
The word 'Dreamt' here is absolutely pertinent. This is an outstanding eleven and will beat opponents across all conditions. One of the mistakes that people often make in picking a World XI is how bereft it often ends up being of the reason, the actual proof, the reality. It's like an emotional Mother deciding why her son is always right. Thankfully, this eleven hasn't done that. But, there is one player who should've been taking guard at the fall of the first wicket but hasn't find a place in. There is a reason why the choice for the most important place in this eleven is not ripe. There is a reason why Rahul Dravid's name should be ahead of Ricky Ponting in such a team at his rightfully deserving position in the batting line up.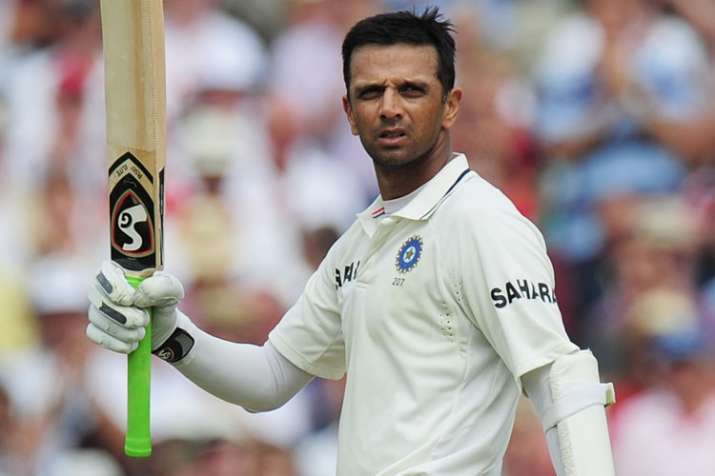 Rahul Dravid is the better no.3 than Ricky Ponting, even though, former was nowhere near as gifted as the latter. The ball that Rahul Dravid would bring out his divine defense to would be driven for four runs by Ponting. Basically, Ponting was a prodigious talent and Rahul was a hardworking labour. But, Rahul had the better all-round game, against spin, seam and swing. What is batting, anyway? It is not about how you look scoring 'em, it is about the runs eventually.
Ponting would've been the best no.3 in any other world of this universe but not in the one where Rahul Dravid batted.
One of the biggest benchmark for greatness over the years has been the runs across all conditions away from home. Rahul Dravid and Ricky Ponting were great players with their own humanitarian fallacies. They both had their own favourite oppositions and conditions and found batting in the others a bit difficult but if you dwelve a little deeper you'll realise why Rahul was better.
Rahul scored 13,288 runs across 164 Tests at an average of 52.31. It is less than the 13,378 runs that Ponting amassed over 168 games.
Better? How?
How much do they know numbers, who only numbers know!!
Let's dig deeper. Rahul Dravid averaged 69 in England, 51 in India, 64 in New Zealand and 79 in Pakistan. He played 96 Tests in these countries, which tells you how he mastered the challenge of spin and swing.
Ponting, on the other hand, averaged a modest 41 in England across 20 games, he had a poor average of 26 in India across 14 matches. He scored runs at 60 in New Zealand but only played 1 Test in Pakistan.
Playing against spin and swing was Dravid's ally. Ponting had the game to excel over these but didn't score the runs like he should've. Ponting was outstanding in Sri Lanka against Muttiah Muralitharan but he failed against Anil Kumble and Harbhajan Singh in India.
Rahul Dravid averages 33.82 at no.3 in South Africa, a place where Ponting averaged 46. Rahul had the game for those conditions, he was excellent off the backfoot and had his water-tight technique to back him but it never really happened despite the hundred in Johannesburg on his first tour of the rainbow nation in 1996/97.
One thing that must be stated, and this is something that the first look at numbers won't tell you, is the kind of pitches that Rahul encountered being an Indian player as opposed to the ones that Ponting played on being an Australian. The pitches that India have played on in South Africa have been tough and at times been of extreme nature. South Africa were smart enough to realise when the vulnerable Indian batsman would arrive on their shores and how easily Australia's pace battery can take advantage of the kind of conditions that were mostly reserved for an Asian team. Despite that Australia never lost a series in South Africa while Ponting played and Rahul Dravid never batted on a flat pitch in that country.
Rahul has one of the best records among the overseas batsmen to have batted at no.3 in South Africa. His numbers are even better when only Asian batsmen are considered.
Just to emphasize the point. Below is the list of best visiting no.3 batsmen (other than Australians, for a valid reason talked about above) to South Africa from 1 Jan 1996 to 31st Dec 2012.
This is not about the debate of greatness. Both, Rahul and Ponting are greats for their respective countries. They inspired a generation across the world with their batting and carved out a legacy for themselves in our sport. While one defined flair, style and dominated bowling attacks, the other actually exemplified what batsmanship is about.
But now you know, Why one should be walking out to bat for your life at no.3 over the other.