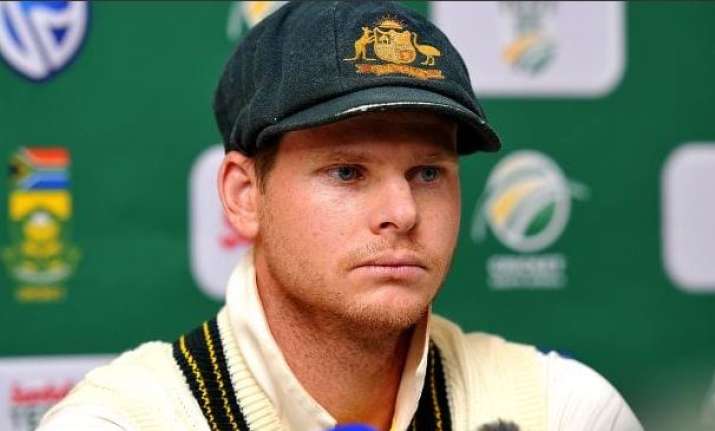 Steve Smith has been facing the wrath of cricket fans and experts alike from all across the world. Former England skipper Nasser Hussain has now joined the course and has slammed Smith for his involvement in the sandpaper gate scandal.
Smith, 28, was banned for one Test by the International Cricket Council after admitting he and a group of his players planned ball tampering during the third Test against South Africa. Not only this, Cricket Australia is looking to come down with an even harder punishment on Steve Smith after he has tarnished the image of Cricket Australia in world forum.
Hussain, who himself was an on the face skipper during his playing days, came down hard on Steve Smith.
"Ball-tampering has always been part of the game, so we should be careful not to get too holier-than-thou," Hussain wrote in a column for Britain's Daily Mail newspaper.
"But what makes the Australians' behaviour in Cape Town different from other instances, I believe, is the premeditated nature of the crime."
"Steve Smith and his 'leadership group' sat down at lunch on the third day of the Test and decided that the team's youngest player, Cameron Bancroft, would do the dirty work."
Hussain lambasted the "double standards" of the Australian side, referring to a recent sledging row involving batsman David Warner.
Going onto speak more about Smith's fault, Hussain said that he must be held responsible for all the drama that has unfolded.
"He finds himself in charge of a very good cricket team but a team that are not especially popular, even back home in Australia," he wrote.
"It's not necessarily the captain's job to be popular, but it is his job to ensure his side are playing within the spirit of the game.
"It will be very difficult for Smith now to carry on as captain once he returns from his one-match ban. Do a cricketing nation as proud as Australia really want a cheat in charge? I just can't see it".
As it is Australia are down on their morale after whatever has panned out on Day 3 and 4 of the Cape Town Test. As a team, they are low on confidence and certainly would need a lot of character to come out of the hole that they find themselves in right now.