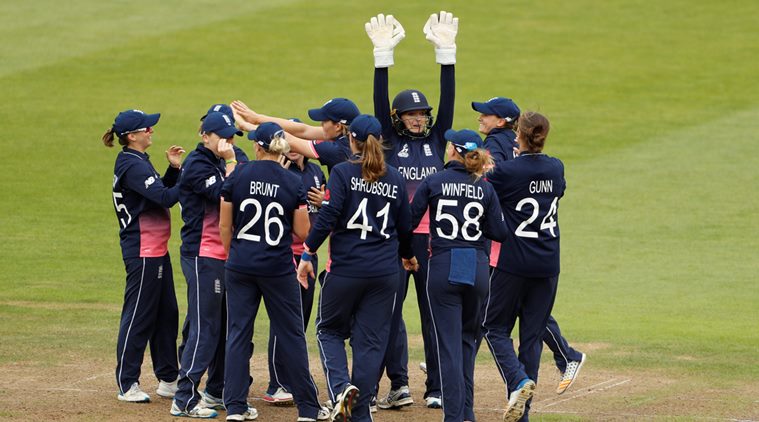 England women cricket team has created a new world record after posting 250 runs against South Africa in the Women's T20I Tri-Series taking place between South Africa and New Zealand. England (250/3) broke the world record for the highest women's T20I innings earlier held by New Zealand women's cricket team (216/1). The three nations are taking part in a triangular series where each team will be playing a doubleheader.
South Africa played two matches yesterday and lost both of them. The home team will play their doubleheader on June 23 whereas New Zealand's turn will come on June 28. Tammy Beaumont, player of the second T20 match had few thoughts after creating the world record. "We saw the Kiwi girls broke it, Robbo told us in the pre-match chat not to try and break it, but I think a few of the girls got a bit of a challenge on," Beaumont told Sky Sports during the mid-innings break of England's match.
"It's an incredible wicket, and we feel a bit sorry for the South Africa girls having to go two in two, but that's the way it goes in this T20 series and we've all got one of those."
In the opener of Women's T20I Tri-Series, Suzie Bates topped the scorer list after hitting 124 off 66 deliveries to take Kiwi's score to 216. Bates spectacular inning saw her surpass Charlotte Edwards as the leading run-scorer in women's T20s.
"It's the best I've batted for a while," Bates told the BBC after South Africa managed just 150 for six in reply.
Suzie Bates' knock included 16 fours and 3 sixes as she fell just 2 runs short of going past Meg Lanning's 126 that came against Ireland in 2014.
After losing both of their matches, the captain of South Africa women's team said "I think we went to Plan Z. There were a couple of run-out chances we didn't take, but the class of Suzie and Sophie, they'll make you pay."