The 2018 Indian Premier League season has now past through the halfway mark and with 33 games behind us, we are well equipped with enough match experiences to list out players the players which have been successful and failures for their respective franchises.
It helps in cricket, unlike life, that there is a simple metric to judge success and failure, and that is performances and results.
Every year the IPL franchises go into the auction with the purpose of arranging the best possible squad which is, they hope, bereft of weaknesses and filled with depth across all departments. Sometimes a quality player arrives into a season on the back of poor performances and it is at that time a team looks to back their gut feel for him and hope he turns up for them. It is a punt they are allowed to make, sometimes it works and sometimes it doesn't.
And so, team COC gets down to analyze five such players who were backed by their team but haven't been able to stand and perform this season so far.
1. Glenn Maxwell
8 matches,131 runs, 5 wickets
When Delhi Daredevils purchased Glenn Maxwell in the auctions, there was this feeling that he has, perhaps, finally reached a place where we get to see the best out of him. It was thought that playing in Feroz Shah Kotla's short and high scoring ground, Maxwell would find it comfortable and put out some of the best that he can on his day. But, he has failed to do so for DD so far. It reflects on his quality and the faith DD continues to have in him, that he is featuring regularly for them despite the poor performances.
2. Ben Stokes
8 matches 148 runs 1 wicket
Much like England does, Rajasthan Royals as well were looking to build their core around the all-around ability that Stokes provides but it hasn't materialized as was expected. He has just not performed and has acknowledged this too. Who knows had Ben Stokes played for RR they way he did for Rising Pune Supergiants last season, where the fortunes of Ajinkya Rahane led side would've been.
3. Yuvraj Singh
6 matches, 50 runs
It is tough, in fact, very tough for anyone to keep the emotion aside and do an honest assessment when it comes to Yuvraj Singh. One of India's greatest limited-overs matchwinner in his prime, he is now a pale shadow of the player he was. It was a very gut-feel, and dare it would be said emotional, decision by the Kings XI Punjab to purchase him in the auctions this year. Yuvraj got dropped from the team after just 6 games, something unimaginable for a team with him as an option in his heyday.
4. Ravindra Jadeja
9 games, 59 runs, 3 wickets​​​​​​​
Now, that's a cricketer who has made the toughest transition possible in becoming a top-class Test bowler for India, but ever since then, Ravindra Jadeja is just not the same limited overs cricketer he was in the early part of his career. To some, it was a surprise when Chennai Super Kings retained him in the auction this year ahead of Ravichandran Ashwin. Watching him in the CSK elevens you can't help but feel he is surplus to the team's requirement, as he has failed to stand out either with the bat or the ball. Curiously, MS Dhoni continues to put him into his side.

5. Jos Buttler
8 games 187 runs ​​​​​​​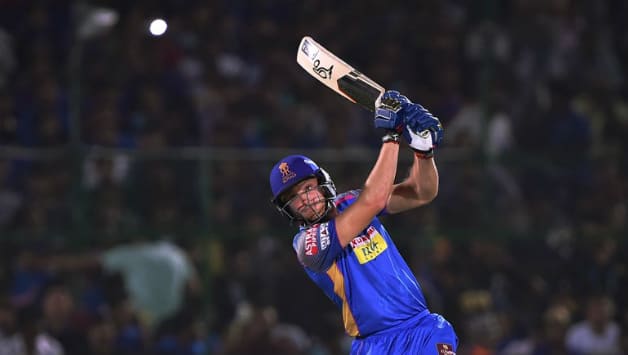 Jos Buttler, when Rajasthan Royals purchased him in the auction was termed as one of the best buys of the IPL for any team. It was considered to be RR's biggest strength that they have one of the games' best-limited overs finisher in their ranks. The ground reality and the hindsight to this perception has hardly been true, in fact, it has been a nightmare for Ajinkya Rahane, the RR captain, that one of the crucial cogs in his team's wheel has failed to live upto the huge expectations.