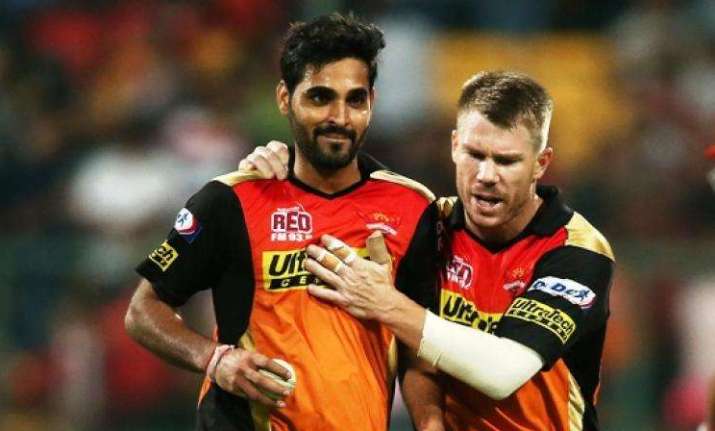 Bhuvneshwar Kumar and David Warner were the only two players retained by the SRH before the 2018 auctions. Losing out Warner due to his involvement in the ball tampering scandal against in the South Africa Test series came as a big blow to them.
They then roped in Kane Williamson and later announced him as the skipper of the side for the season. Bhuvi was announced as the vice-captain of the side.
He is not far away from leadership role, however, as he is the potential leader of the SRH bowling attack. Even in their victorious IPL season in 2016, it was Bhuvi who led the attack along with Ashish Nehra, Barinder Sran and Mustafizur Rahman taking 23 wickets in the season.
In an exclusive interview to Economic Times, Bhuvneshwar Kumar opened up on his chances of leading the team in future.
"I never make any plans. I never do," he tells ET. "You don't know what is going to happen tomorrow, so there's no point making goals or aims for next series or next month or next year. I've to go match to match, day to day. I'm not a guy who makes a lot of goals."
At Hyderabad, Bhuvneshwar observes the differences in the style of captaincy between Warner and Kane Williamson. "There's no change in the dressing room, really. Kane Williamson and Warner have their own ways of captaining the side," he says, typically not giving away much. "Williamson is calm and composed, and that is shown in the way he thinks about the game. He's done so well for his country, and you can see he is very good as a captain."
Regarding his potential as a swing bowler, Bhuvi said "I've always been able to swing it both ways, but I always wanted to add that pace. And I didn't know how to," says Bhuvneshwar. "I worked with the trainers and the physios and what I've learnt is that it comes naturally with age and maturity. The pace I have now – I am at the peak of my physical attributes. Everything comes from that physical maturity, it improved the pace a bit."
Bhuvneshwar's next mission is in England, the venue where he shot to fame with both bat and ball in India's last Test series there. The stage is set, and though he refuses to divulge much on whether he will follow a few team-mates into joining a county side, you can be sure the next chapter of a glorious career awaits.
Bhuvneshwar Kumar has picked up 6 wickets so far for SRH in the campaign and has been an important cog in the wheel of SRH bowling attack. One expects Bhuvi to keep his form the Sunrisers going ahead in the tournament.