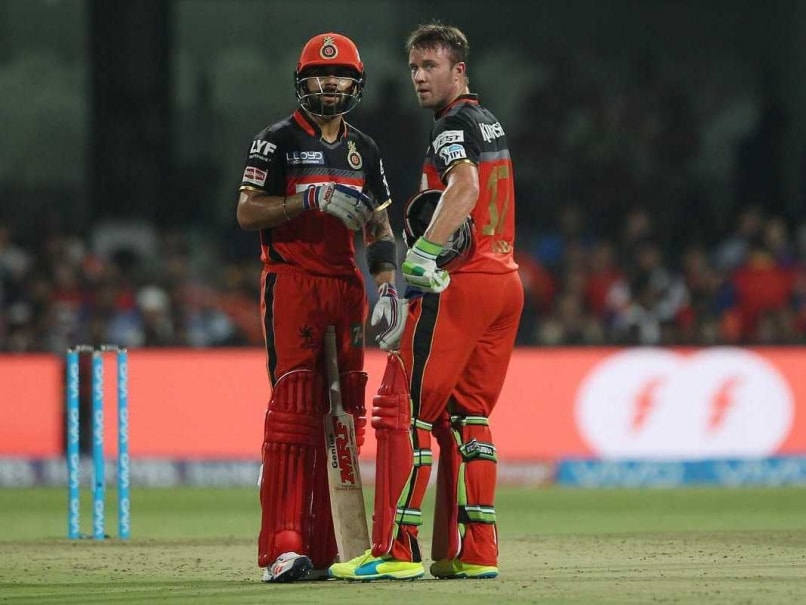 There is barely a more beautiful sight in the world of cricket than watching Virat Kohli and AB de Villiers batting in full pomp together. Both the ace batters enjoy each other's company and have a very good mutual understanding while forging a partnership for their IPL franchise – Royal Challengers Bangalore.
On Tuesday (April 17), Virat scored a majestic 62-ball 92* against the Mumbai Indians at Wankhede albeit on a losing cause. With this unbeaten knock, the RCB captain also earned the 'Orange Cap' by becoming the leading run-scorer of IPL 2018 till now. In spite of the success, Kohli feels that he does not possess the skill set to play outrageous shots like de Villiers.
"I have seen this debate a lot and while I can play all formats, I don't play these shots. But this is the way I know to play. I don't know to play the innovative shots. My inability to play these shots is why I have to stick to my game. People like AB have tremendous ability to play all kinds of shots and I don't so I have to mould my game according to that," Kohli quoted by India Today as saying.
"People say I play safe but I am not that skilled to be able to try those shots. Because I have never practiced those shots and never worked on them. That shows the talent AB has; he can reverse sweep fast bowlers for six... that's something I have never seen in my life. That in many ways takes the game forward. But I stick to what I know which is to play to my strengths and conventional cricket shots," he further added.
On the other hand, Mr. 360 degree – AB de Villiers reckons that his RCB skipper does not need to play adventurous strokes.
"Virat says he is not skilled to play some shots. But players who play 360 shots are not skilled to hit the ball in the V for six consistently.. So they have to look for other areas. So that's what I mean," de Villiers told India Today.
"He can consistently hit the ball in his zone because he will get it right nine out of ten times. I have to figure out a way to get it right nine out of ten times. See players do this and that means they are not as good as him. He doesn't have to go to those kind of shots," the Proteas batting genius explained.
In the Indian Premier League (IPL), Kohli and de Villiers have been batting together since 2011 and have broken quite a few records. The duo shares two 200-run partnerships in the IPL – most by any batting pair to own such a record in Twenty20 cricket. During the 9th edition of Indian Premier League, Kohli and AB took the cricketing fraternity by storm with incredible batting. While Virat had amassed 973 runs in IPL 2016 including four hundreds, de Villiers had aggregated 687 runs and one ton.
Recalling the time when he was first told that he would pair up with the South African batting maverick for RCB, Kohli said: "We were on the South Africa tour of of 2010-11 when I first knew AB would be playing for RCB. I remember meeting him in Johannesburg. I met him and said 'I am excited to work with you."
Without a shadow of doubt, Kohli has evolved by many folds in the last seven years and de Villiers is ecstatic for his friend.
"Virat deserves everything that's coming his way. I have seen him work very hard on his game. From the time Mark Boucher (another South African who played for RCB) told me there is a special talent coming your way.. I was not surprised to be honest," AB said.
"He has always been the guy who has grit between the heath, very passionate, very driven, have seen him do his thing for years now. There's no doubt in my mind he is the best player in the world at the moment and will be for quite a few the years to come. Very proud of the way he goes about his business and the way he has evolved as the best player in the world," he concluded.