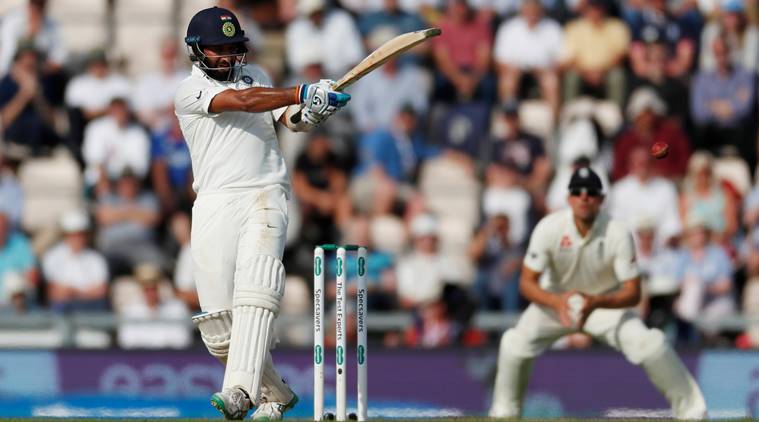 Cheteshwar Pujara and Moeen Ali were the stars of the second day of the fourth Test match at the Rose Bowl in Southampton.
Cheteshwar Pujara scored unbeaten 132 runs to keep India in the game and helped them take a meager lead of 27 runs while Moeen Ali who took a five wickets haul to bring England back into the game from a losing position.
Earlier in morning session Stuart Broad dismissed both the openers and reduced India to 50/2 but Cheteshwar Pujara and Virat Kohli's 92 runs partnership put India in a strong position but after Kohli's wicket India lost the plot and lost 6 wickets for just 53 runs. Though Cheteshwar Pujara was rock solid at the other end and rescued India as he added 78 runs with Ishant Sharma and Jasprit Bumrah and India ended on 273 runs with a small lead of 27 runs. At stumps, England were 6/0 in their second innings.
All the major stats and facts from the second day of Fourth Test match between England and India at The Rose Bowl in Southampton:
5 - Moeen Ali (5/63) took his 2nd Test five wickets haul against India and overall 5th Test five wickets haul of the career. Against India his both five wickets haul came here in Southampton, in 2014's Test he took 6/67 in the second innings.
10 - Virat Kohli became the 10th Indian batsman to score 6000 or more Test runs. Indian captain achieved this milestone in 119 innings at an average of 54.41 with 23 hundreds and 18 fifties.
15 - Cheteshwar Pujara (132*) scored 15th hundred of his Test career - the 10th most Test hundreds by an Indian batsman.
Cheteshwar Pujara 132 not out
15th Test hundred of career
5th Test hundred against England
5th Test hundred away from home
2nd Test hundred outside Asia
29 - Rishab Pant scored a 29 balls duck - the joint most balls faced by an Indian batsman before getting out for a duck in Test cricket.
Most balls faced by an Indian batsman while getting out for a duck -
RISHABH PANT - 29 vs ENG at Southampton, 2018
Suresh Raina - 29 vs ENG at The Oval, 2011
Irfan Pathan - 29 vs PAK at Bangalore, 2005
Munaf Patel - 28 vs WI at St. John's, 2006
Sanjay Manjrekar - 25 vs SA at Durban, 1992
119 - Number of innings taken by Virat Kohli to completed 6000 Test runs - the second fewest by an Indian batsman.
Fewest innings to score 6000 Test runs for India -
Sunil Gavaskar - 117
VIRAT KOHLI - 119
Sachin Tendulkar - 120
Virender Sehwag - 121
Rahul Dravid - 125
Mohammad Azharuddin - 143